Designed with an understanding that the health information field is changing, the online UW Bachelor of Science in Health Information Management and Technology (HIMT) provides the knowledge and competencies you need to qualify for jobs in tomorrow's technology-based healthcare environments.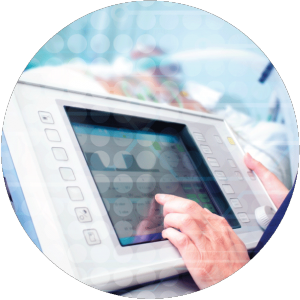 A multi-campus collaboration, UW HIMT combines the resources of the University of Wisconsin-Extension and four University of Wisconsin institutions:
The program's diverse faculty and online flexibility, combined with our forward-looking curriculum, make it an ideal choice for nontraditional adult students and busy HIM professionals looking to start or advance their HIM careers.
Eligibility
HIMT is a degree completion program designed for adult learners who already have some college credits or a liberal arts–based associate degree. It is also ideal for adults who have completed a bachelor's degree in another domain and seek a second bachelor's in HIMT to gain entry to this high-growth field.
You may be eligible for admission to this program if you have completed approximately 60 semester credits of transferable college credit with a 2.0 or better grade point average (GPA).
Prerequisites
Some HIMT courses have prerequisites. If you have not completed some or all of the prerequisites as part of an associate degree or prior coursework, you will need to complete them before taking specific courses. UW campus equivalents or other college/university equivalents may be substituted. The three prerequisite courses are:
College algebra
Biology
Communications
For more information about prerequisites, please contact your adviser.

Accreditation
Higher Learning Commission
The Bachelor of Science in Health Information Management and Technology is approved by the University of Wisconsin Board of Regents and accredited by the North Central Association of Colleges and Schools.
HIMSS
As a result of meeting the Healthcare Information and Management System Society's (HIMSS) rigorous standards for quality health IT or healthcare education, the UW Health Information Management and Technology program has been named an Approved Education Partner and Academic Organizational Affiliate of HIMSS. This partnership adds professional value to our program, including benefits for both students and faculty:
Free HIMSS membership for all students in the UW HIMT program
Access to data analytics and research conducted by HIMSS
Free access to all HIMSS virtual events and discounted rates on conferences
CAHIIM
UW HIMT is currently accredited by the Commission on Accreditation for Health Informatics and Information Management Education (CAHIIM) at UW-Green Bay, with accreditation at UW-Parkside pending. Accreditation by CAHIIM is your assurance that our program meets the rigorous academic quality and competency standards established by the American Health Information Management Association (AHIMA) and CAHIIM. Completing a CAHIIM-accredited program qualifies you to sit for industry credentialing exams such as the Registered Health Information Administrator (RHIA) offered by AHIMA. For more information, visit our FAQ page.

Required Background Check, Drug Screen, and Immunizations
All students in the UW HIMT program are required to submit and pass a criminal background check, proof of immunizations, and drug screening no more than one year prior to registering for the capstone experience. If you receive negative results, capstone sites will most likely deny to host you. You are responsible for completing and paying for the background screening process through a third-party vendor: www.certifiedbackground.com. No Protected Health Information (PHI) will be shared with the university. To register, you must first receive a "package code" from the HIMT capstone coordinator. After registering, you may want to watch a certified background tutorial by following the link under "Document Center" and "Tutorials."