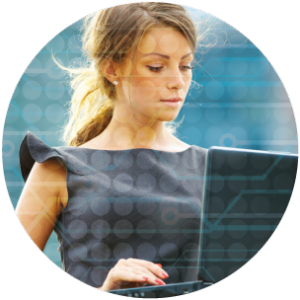 Online learning in the UW Health Information Management and Technology program is a lot like face-to-face learning, except you can access your classroom anytime, anywhere, from nearly any device. A simple Web interface makes it easy to access courses, connect with instructors and classmates, check your grades, and get support when you need it.
A Genuine University of Wisconsin Degree
A degree earned through the online UW Health Information Management and Technology program is the same recognized and respected UW degree granted to students who attend courses on campus. It offers you the same accredited, first-class education, renowned faculty, and rigorous standards that the University of Wisconsin is known for and that employers highly regard.
Online, But Not Alone
Many students are surprised to find that they get to know their instructors and classmates better online than in a traditional classroom. You will receive personal attention from your instructors as they deliver lessons, direct you through activities, and answer your questions. You will feel connected and supported as you engage with other students through email, chat, video conferencing, discussion boards, and more.
I
Frequently Asked Questions About Online Learning
Why might someone take an online course?
Online courses offer more flexibility than classroom-based courses. Students still have deadlines and due dates, but there is never a specific time you need to be online. This allows greater flexibility for work and family commitments. Online learning also eliminates the need to drive to campus, find a place to park, and hike to the classroom.
What should I expect from an online course?
All course content, from multimedia lectures and e-learning tools to homework assignments, will be delivered to you through the program's online learning management system. To get a closer look at an HIMT course, check out: An Inside Look at a UW HIMT Course: Quality Assessment and Improvement.
Do I need to be proficient with using a computer?
Online learning requires only basic skills, such as attaching a Word document to an email or posting photos on Facebook. Technical support is available throughout the day and evening hours. If you run into a problem, our friendly support team will help you solve it.
Do I ever need to come to campus?
No, you never need to come to campus. However, some students to choose to participate in the graduation ceremonies at their campus.
Do I ever talk with the instructor?
Yes, instructors are available by email, phone, and Skype. There is also an "Ask Your Instructor" discussion board within each course. This allows students to post questions and everyone can see the answer. Some instructors give online "office hours" as well.
Do I have to be logged into my course at a certain time?
No, courses are asynchronous, which means we do not expect students to be logged in or participating at the same time. UW HIMT students live in all parts of the country, and it would be difficult to get everyone online at the same time. However, there will be deadlines in your courses. For example, a discussion post might be due on Friday. But some students may do their posts on Tuesday and some may wait until Friday. This allows students great flexibility for their busy lives.
How do I take tests?
Tests are taken online inside the Desire2Learn (D2L) learning management system. Some exams/quizzes may have time limits. When you log in and click "start," the clock timer will begin and you will complete the test within the designated amount of time. You will be asked to complete each test within a window of time (for example, Tuesday through Friday), and you will be able to log in and take your test when it best fits your schedule.
Are there group projects?
Some courses offer opportunities to work with fellow adult learners. Groups tend to work via email or Skype. There may be an extra piece of technology inside a course to assist with a group PowerPoint presentation or other special situation. We provide any such tools that are necessary inside the course. Many students enjoy this group work and have formed friendships with their online colleagues.
Do I have to use the same computer every time I do schoolwork?
No, you will have a user ID and password that are unique to you. You can use these to access courses from any computer with the appropriate Internet speed and processing capabilities.
---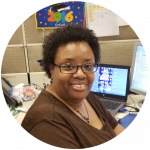 "I appreciate Professor Gibbs and his assistance with the HIMT 345 course material. Several times during the week, he and I met via video conferencing. Professor Gibbs even offered to help me on the weekends if we had scheduling conflicts during the week.
His explanations helped me gain a better understanding of the course material. Even though it was an online course, I never felt 'out of touch' with the professor."
– Glenora Howard, HIMT student
---
Questions?
Our advisers are available Monday through Friday 8:30 a.m. to 5:00 p.m. CT.
Call: 608-262-2011
Email: learn@uwex.edu