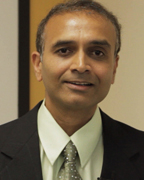 Suresh Chalasani is a professor of management information systems at the UW-Parkside. Prior to joining UW-Parkside, he was an assistant professor at UW-Madison and served as a consultant for several companies. Chalasani's educational background includes a PhD from the University of Southern California.
Chalasani's current research interests include healthcare management and healthcare technologies. He is a senior member of IEEE and a member of the Association for Information Systems (AIS). He has received numerous research and teaching grants from the National Science Foundation and University of Wisconsin System.
Chalasani has published numerous research articles in journals such as IEEE Transactions on Computers, IEEE Transactions on Parallel and Distributed Systems, IEEE Transactions on Communications, and Information Systems Frontiers. He has also presented papers at a number of IEEE- and AIS-sponsored academic conferences. He is on the editorial board of the International Journal of Biomedical Engineering and Technology, where he co-edited a special issue on "Nanotechnology for Medical and Surgical Applications." Additionally, Chalasani serves on the international program committees for several conferences.