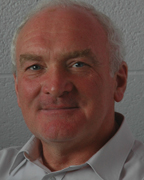 Robert Dollinger obtained his master's degree in computer science from the Technical University of Cluj-Napoca, Romania, in 1985 and his PhD in artificial intelligence from the same institution in 1996. He started his professional activity as a researcher at the Medical Informatics Institute in Cluj-Napoca, where he worked on and managed several projects on medical imagery and computed tomography. In 1990 he joined the Technical University of Cluj-Napoca as a full-time lecturer, teaching courses in databases, programming, algorithms, and data structures. While he was teaching, he was actively researching the areas of qualitative reasoning, constraint networks, and order-of-magnitude models—these were the main topics of his PhD dissertation.
From 1994 to 2003, Dollinger visited universities in France, Germany, the Netherlands, Italy, and Ireland. He participated in several EU or nationally funded projects, and extended his research areas to database query languages and transaction processing models. Dollinger continuously maintains contact with the professional community outside the university boundaries through joint projects with software and computing companies or as an expert consultant.
Dollinger joined UW-Stevens Point in 2003, where he continues his teaching and research activities. Since then he developed nine new courses for the Computer Information Systems program and renewed many of the existing ones. He also extended his research interests to object-oriented systems, automated code generation, data mining, intelligent tutoring systems, emerging Web development technologies, and rich Internet applications. Dollinger has published 69 papers and five books. He is an active conference referee, book reviewer, and pro bono consultant.