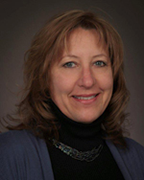 Janet Reilly is an assistant professor in the Professional Program in Nursing at UW-Green Bay and has taught online courses for eight years. With a focus on innovative technologies in nursing education and nursing practice, she coordinated two years of multi-campus faculty development and a culminating conference: E-Learning in Nursing: Design, Innovation, Delivery, and Evaluation. Prior to teaching, her primary areas of practice and expertise were public and community health nursing. She has developed new courses in public and community health informatics and practicum, and has published in these areas.
Reilly is currently a family nurse practitioner in the urgent care setting. She understands firsthand the frustrations of and benefits to providers using health information technology in the acute healthcare system: her clinic recently converted to electronic medical records using Epic, a system produced by a Madison-based medical software company.
Reilly holds an MSN degree from Concordia University, in Mequon, Wisconsin, and a DNP degree from Case Western Reserve University, in Cleveland, Ohio.