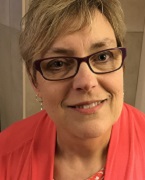 In addition to serving as academic director of the University of Wisconsin Health Information Management and Technology (HIMT) program since 2010, Brenda Tyczkowski also serves as assistant professor for the Professional Program in Nursing at the University of Wisconsin-Green Bay. Prior to these roles, Brenda served as assistant to the regional field operations director for the State of Wisconsin's Bureau of Nursing Home Resident Care, director of training and implementation at American Data, and director of nursing at Good Shepherd Home.
Brenda's teaching emphasis includes such areas as leadership and management, nursing care of older adults, theoretical foundations of nursing, women's health, and U.S. healthcare systems.
Brenda earned her doctorate of nursing practice (DNP) from the University of Kansas; a master of science in nursing administration from the University of Wisconsin-Oshkosh; and a bachelor of science in nursing from the University of Wisconsin-Green Bay.
Outside the university, Brenda is active in patient advocacy, organizational change, and quality of care issues in nursing homes. In her spare time, Brenda enjoys quilting, knitting, biking, and spending time with her husband.