You work in health information management (HIM), right?
Then you know HIM professionals must constantly focus on the future, evolving and expanding their skillsets to meet industry demand. This includes thinking beyond traditional HIM roles and perhaps even traditional HIM credentials, such as the Registered Health Information Technician (RHIT).
In its white paper "HIM Reimagined: Transformation Starts With You," the American Health Information Management Association (AHIMA) promotes a clear pathway to the Registered Health Information Administrator (RHIA) credential, labeling it as the standard for HIM generalist practice. AHIMA also promotes ongoing support for professionals transitioning from the RHIT to the RHIA credential, which requires a CAHIIM-accredited bachelor's degree.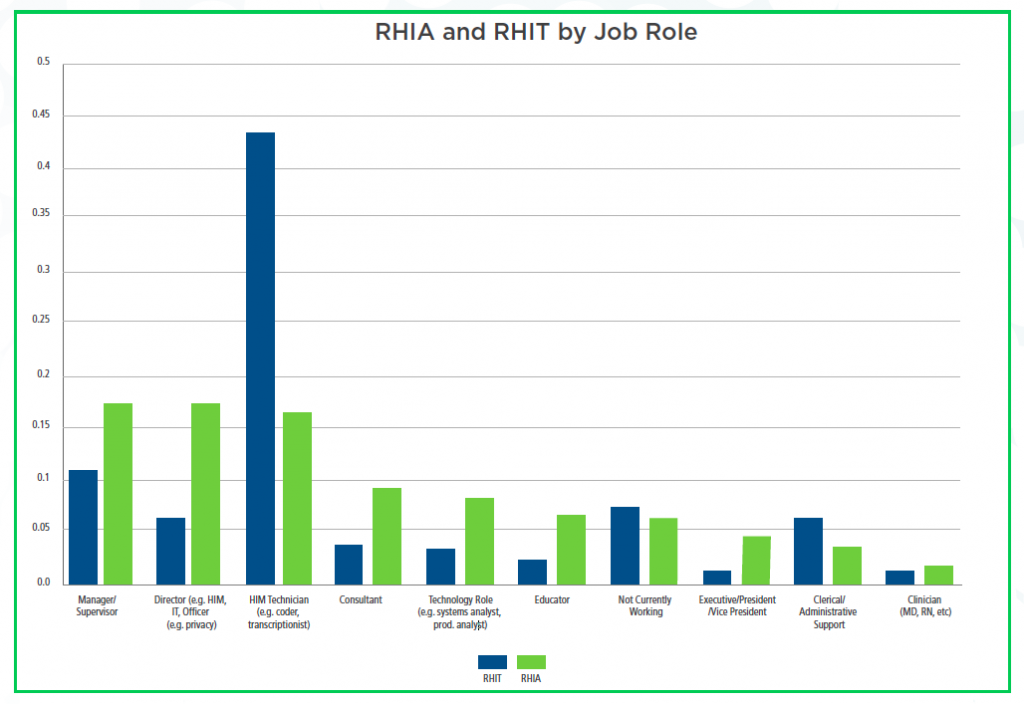 "An emphasis needs to be placed on program growth at the baccalaureate and graduate level to move the profession to a higher level of education rapidly," AHIMA urges.
So, what will happen to the RHIT? AHIMA plans to transition the current RHIT credential to various specialty certifications over a multi-year, multi-phased approach with a phase-out of the RHIT as we know it by 2027. Specialty certifications could include health data analysis, coding, cancer registry, documentation improvement, and privacy and security, among others.
What's Causing the Shift?
A phase-out of the RHIT will have huge implications. The transition requires the more than 33,000 AHIMA members with an RHIT to re-evaluate their career paths and goals. According to AHIMA's 2014 workforce study, 38 percent of AHIMA members had an RHIT, making it the most popular HIM credential even when compared with the widely recognized RHIA and Certified Coding Specialist (CCS) credentials.
Many of those with an RHIT currently work in medical coding, a niche area of HIM in which there has been widespread adoption of computer-assisted coding technology. According to AHIMA, nearly 43 percent of RHITs work in HIM technician roles (e.g., coders or transcriptionists)—these roles could be among those that evolve as automation continues to infiltrate the industry.
In its white paper, AHIMA reiterates the importance of higher education and specialization as a way to weather the storm of automation.
UW HIMT Degree GuideGet Guide
Download a four-page overview of the UW Health Information Management and Technology bachelor's program, including information on courses, careers, and tuition.
UW Extended Campus will not share your personal information. Privacy Policy
Boosting the RHIA Credential
If you're an RHIT… 
It's too soon to tell whether employers will continue to recognize the RHIT or embrace any new specialty credentials that take its place. Most likely, there will always be two-year HIM programs offering the RHIT credential, but these programs will need to adapt quickly to stay relevant. And they'll need to determine which skills will be in demand—not now, but five years in the future.
In the meantime, if you're an RHIT, you must determine what you envision for yourself in terms of a career path and whether specialization or a bachelor's degree would be your best move. If you're thinking about furthering your education, ask yourself these questions:
Do you wish to advance beyond technical roles and, ultimately, move into leadership or management positions?

Do you wish to climb the career ladder, gaining experience in a variety of HIM positions?

Have you set your sights on the RHIA credential?
If the answer is yes to all, a degree may be the right path. Pursuing a Health Information Management and Technology (HIMT) bachelor's degree has advantages, a major one being that candidates for RHIA certification need a CAHIIM-accredited bachelor's degree to sit for the exam. Also, HIMT bachelor's programs also offer a deeper dive into important HIM topics and challenges facing today's organizations.
Most associate degree programs provide only a high-level overview of healthcare compliance, revenue management, data use and analytics, and information governance. This is in stark contrast to the more thorough exploration of these topics in a bachelor's degree program.
For example, an associate degree program might provide a single course on healthcare data sets, focusing on the basics of clinical terminologies and classification systems. A bachelor's degree program in HIMT, on the other hand, might require multiple courses tackling topics such as data warehousing and mining, programming and software development, and healthcare statistics.
In addition, HIMT bachelor's degree programs tend to be more well-rounded than their associate degree counterparts, covering topics related to healthcare ethics, project management, leadership, and quality assessment and improvement and helping to set the foundation for career growth and advancement.
What's Next?
University of Wisconsin offers a 61-credit online Bachelor of Science in Health Information Management and Technology. If you're interested in this degree, we're here to answer any questions you have about tuition, admission requirements, and more. Contact us at learn@uwex.edu or 1-877-895-3276. 
If you prefer to explore the degree on your own, start here.