This post is a continuation of an interview with Brenda Tyczkowski, academic director and adviser of the UW-Green Bay Bachelor of Science in Health Information Management and Technology (HIMT).
Read Part I of the interview here.
Missy Katner: Did anything surprise you about HIMT students when you first started teaching for the program?
Brenda Tyczkowski: We had this picture of what an HIMT student would look like and what skills they would come in with—healthcare backgrounds or an associate in health IT—and that has not been the case. We have a lot of students with no healthcare experience, no health IT degree. So we added more material to the intro courses that would help students get their feet wet and build up a basic knowledge of healthcare.
MK: Can you give me a brief summary of the HIMT courses you teach?
BT: In HIMT 310: Healthcare Systems and Organizations, we explore how HIMT fits into different settings like hospitals, home health, nursing homes, etc. We also do a brief overview of things they'll cover in future courses, such as reimbursement, documentation, patient needs, and so forth in different settings.
HIMT 430: Quality Assessment and Improvement is totally different. It's really fun to teach because it's near the end of the program and students get to apply the skills they learned in a real-world scenario. The cornerstone of the course is a project that helps them see what an HIM role really is: being a detective and discovering why something is happening and what the solution might be.
MK: Okay, forgo brief. Tell me more about this project!
BT: First, the student is informed that one of the hospital wings has a sharp increase in medication errors. They do research to find out what others are doing about medication errors. Then, they read mock hospital policies and staff interviews. They have to put on their detective hats and find out why the errors are happening and move toward a solution. They present potential causes and their top three solutions to a committee.
Finally, I send them a set of data to analyze to determine whether or not their solutions were helpful.
MK: That sounds fascinating and fun.
BT: Yes, like I said, the project helps us see what an HIM professional really does. We start out with an Excel spreadsheet showing all the data on errors. It's so easy to get wrapped up in the data and forget the job isn't just crunching numbers.
MK: I'm imagining the spreadsheets now… Is the data analysis piece ever intimidating to students?
BT: Prior to taking HIMT 430, you need to complete a statistics course. With that prerequisite, there's no reason to be worried about the data analysis we do in HIMT courses.
MK: What's the most common question or concern HIMT students have?
BT: Which track they should take. Some students know right away if HIM or health IT is right for them, but most are unsure of which they want to pursue. I tell them to read the page on the website that explains the HIM and health IT tracks.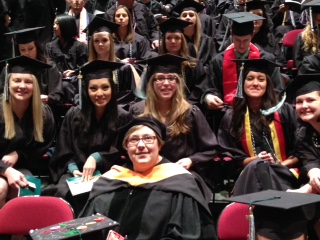 Another common question from students is, what is the Registered Health Information Administrator (RHIA) exam like? Last summer, I earned RHIA certification and can offer insight to HIM students who are preparing to sit for the exam after graduation.
MK: Do students decide which track to take right away?
BT: No, they can take a few courses first. Usually they need to decide after the first semester, so I always suggest picking courses that give them a flavor of technology and management.
MK: What if a student wants to take both tracks?
BT: A number of students have expressed interest in this, which is surprising to me since the skill sets of HIM and health IT are so different. One usually appeals to a person more than the other. But some students think, I really want the management side, but to be a good manager, I need the technology knowledge, too.  It's smart—you will be super valuable to employers.
MK: How do you define HIM roles?
BT: My easy definition is that HIM professionals are the go-between for the people providing care and those who are developing reports and crunching the numbers behind the scenes. An HIM professional tends to be a people person and a leader. They're not sitting in a cubicle all day. Some people feel comfortable in that position, and others don't.
MK: What areas of healthcare are you most passionate about?
BT: Quality of care in nursing homes has always interested me, but my research focuses on strong healthcare leadership and patient advocacy—so, looking out for their best interests. Recently, I did a study on emotional intelligence in nurse managers and found that transformational leaders have the strongest emotional intelligence.
MK: And what do you enjoy doing in your spare time?
BT: (Laughing) What spare time? I'm pretty busy, but I enjoy reading, knitting, and making quilts. We have a cottage in Door County that we go to in the summer. One of the benefits of teaching online classes is I can work from anywhere.
MK: That sounds beautiful. Okay, final question. What is the number one thing you want HIMT students to know about the program?
BT: I'd like them to know that it's a great chance to shift their career, no matter if they have a healthcare background or not. They will still come out polished and ready to go in a field that's wide open with opportunity.
Also, the online program offers big advantages. We have students from every corner of the country—from Florida to California, rural to urban areas—coming together and sharing ideas. It's a great learning environment.
To explore the UW Bachelor of Science in Health Information Management and Technology program, start here. If you'd like to speak with an enrollment adviser about the program and if it's right for you, call 1-877-895-3276 or email learn@uwex.edu.
More From the HIM and Health IT Blog
How Many People Become Registered Health Information Administrators?
Great News, HIT Students! UW HIMT Is Now a HIMSS Approved Education Partner
How Do You Become an In-Demand HIT Professional With Epic Certification? Learn From This UW Graduate's Career Path
10 Ways to Feel Better Prepared for the RHIA Certification Exam
UW HIMT Degree GuideGet Guide
Download a four-page overview of the UW Health Information Management and Technology bachelor's program, including information on courses, careers, and tuition.