"It's not what you know but who you know." Like it or not, even in the tech-heavy health information field, networking is key.
Hold the groans. Networking events and conferences can be fun and worthwhile. Take the 2016 HIMSS Conference & Exhibition, which kicks off on February 29 in Las Vegas.
The five-day annual conference has a lot to offer:
Expert-led educational sessions on just about every HIT subject
Access to big-name organizations, such as Epic, Cerner, and GE
Demonstrations of the latest HIT technology and products
Networking opportunities with other health IT professionals

If you are not attending the 2016 HIMSS conference, UW HIMT Program Manager Wil Limp says, "put it on your calendar for next year."
To get the scoop on the HIMSS conference, visit the conference website or read on. We'll give you quick answers to your questions about the conference.
Does HIMSS matter to me?
It depends on what your specialty is—management, technology, or finances.
"If you're a health information professional, you should belong to one of the 'Big Three' associations throughout your entire career," Wil says.
The 'Big Three' associations are:
If you are aiming for a career in HIT, then HIMSS is the best association for you.
Should I go to a HIMSS conference?
The annual events hosted by the "Big Three" organizations offer great opportunities to stay connected in the field.
Generally, people attend HIMSS conferences for three reasons:
UW HIMT Degree GuideGet Guide
Download a four-page overview of the UW Health Information Management and Technology bachelor's program, including information on courses, careers, and tuition.
1. To learn about the latest developments in health IT through educational sessions and exhibitions.
At HIMSS16, you can attend sessions on almost any HIT subject, from business intelligence, IT infrastructure, and mobile health to Meaningful Use, informatics, and privacy and security. See the full list of topics here.
Also, wander through the exhibit areas, which feature cutting-edge technologies and product demonstrations from leading health IT vendors.
You can search for conference events based on your professional role, whether you're a CIO, consultant, IT professional, or first-time attendee.
2. To attend review sessions or take HIMSS certification exams.
Some go to the HIMSS conference for the full-day review session to prepare for the CPHIMS exam. Others actually sit for the CPHIMS or CAHIMS certification exam, if they are eligible. These exam sessions tend to fill up quickly, so it's important to sign up early.
3. To network with other health IT professionals.
"Even if you're an HIMT student, networking early and often is important," Wil says.
If networking isn't your thing, read this article about a journalist's month-long challenge to overcome the fear of networking. (It helped me.)
The HIMSS conference provides nightly social and networking events. Check out the full list of events here.
How much does it cost to attend the HIMSS conference?
While standard passes cost more than $1,000, the conference offers early bird prices of $765 for HIMSS members. If you're a student, you can attend for a reduced price of $145.
Who will be there?
Last year, 43,000 healthcare professionals, vendors, and health IT experts attended the HIMSS conference. Even more people are expected this year.
Don't miss the two opening keynote speakers at HIMSS16: Sylvia Mathews Burwell, the nation's highest healthcare official, and Michael Dell, chief executive officer and founder of Dell.
Oh, and Peyton Manning plans to stop by: he's the closing keynote speaker.
Will UW HIMT be represented at HIMSS16?
Yes! If you're attending the HIMSS conference this year, stop by "university row" to see Wil Limp and Dave Summers, program manager of the UW Master of Science in Data Science. They are sharing a booth and would love to chat about their degree programs, health technology, careers, and more.
Though there's no formal event for UW HIMT students and alumni this year, Wil plans to organize a dinner during the 2017 HIMSS conference in Orlando.
Will I have enough to do for five days?
HIMSS16 is huge. Its 1,300 booths and vendors span two floors of the gigantic Sands Expo and Convention Center.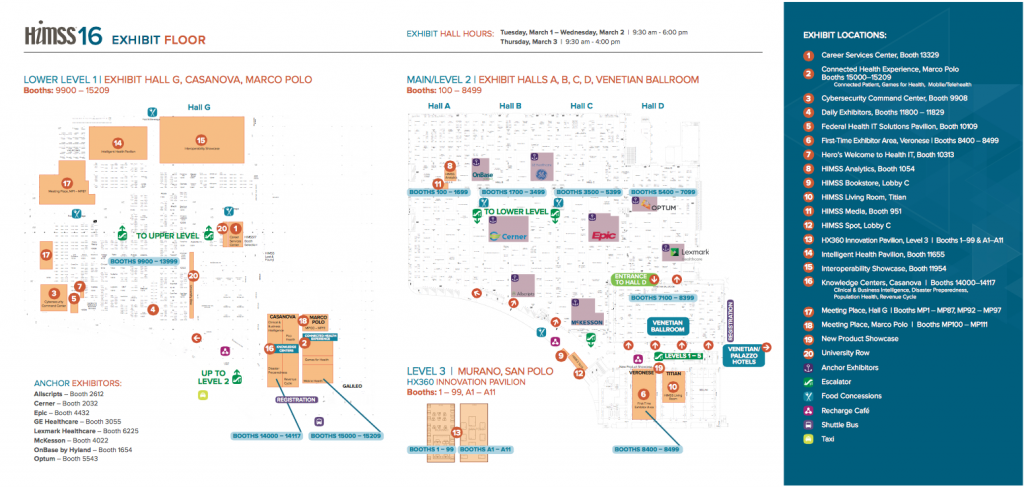 Download map here.
Between the education and networking events, interactive exhibitions, and certification review sessions, you will have no shortage of things to do during the week of the HIMSS conference. Plus, you're in Vegas…
Read More Health IT Blog Stories
Great News, HIT Students! UW HIMT Is Now a HIMSS Approved Education Partner
Why Get an HIMT Degree? "I Landed a Full-Time Healthcare IT Job Before I Graduated," Says UW Student