Jane Duckert is the health information management (HIM) director at UW Health, an RHIA, and an advisory board member for the University of Wisconsin Health Information Management and Technology (HIMT) online bachelor's degree program. When she looks back on her 15 years as director and three decades in HIM, she is grateful for the opportunity to join the fast-paced field and urges others to do the same. "There is never a dull day in HIM. That's for sure!" she says.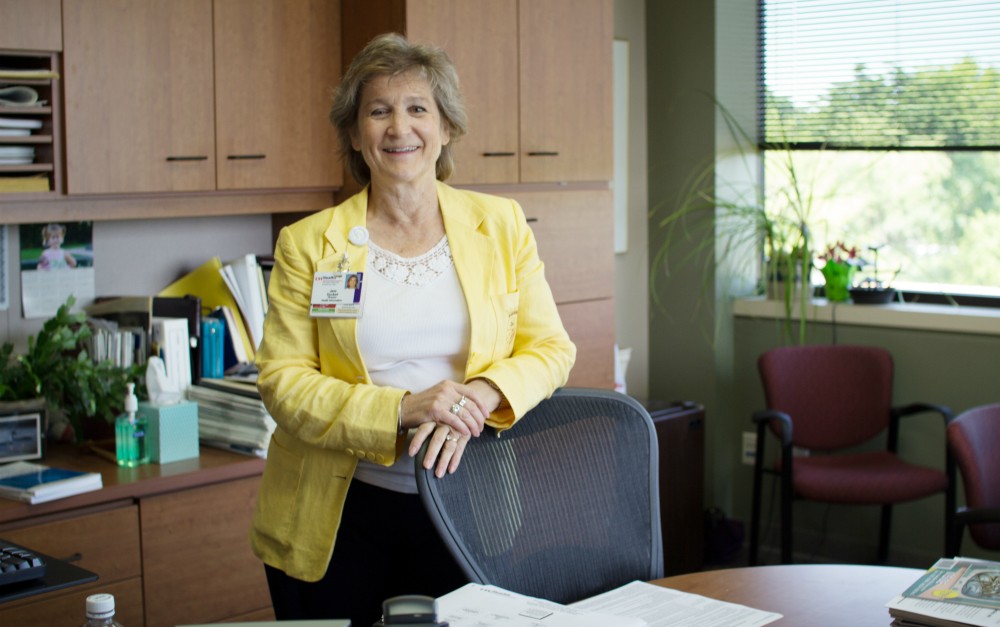 Out of the library, into the hospital
Back in the 1970s, medical records were paper and digitalizing data was in its infancy. Jane was a library assistant at the Madison Public Library but needed a second job to pay rent. She found part-time work as an inpatient transcriptionist at the UW Hospital and Clinics.
Jane found health care fascinating. "Being a transcriptionist was like reading mini-novels all the time: patient came in, here are the symptoms, we ran these tests, we did this surgery. And there's usually a happy ending." Her success as a transcriptionist caught the attention of the assistant director of inpatient coding.
"Being a transcriptionist was like reading mini-novels all the time: patient came in, here are the symptoms, we ran these tests, we did this surgery. And there's usually a happy ending." 
UW Hospital and Clinics was in the midst of expanding its coding system, and with the support of the assistant director, Jane decided to make the jump to inpatient coding. "With a master's degree in library science and training in the Library of Congress classification system, coding was natural for me. The concept is very much like cataloging books."
UW HIMT Degree GuideGet Guide
Download a four-page overview of the UW Health Information Management and Technology bachelor's program, including information on courses, careers, and tuition.
UW Extended Campus will not share your personal information. Privacy Policy
Life as a health information manager
Jane spent three decades moving up the ranks in HIM. After being an inpatient coder, she was promoted to coding manager and earned a Registered Health Information Technician certification offered by the Commission on Accreditation for Health Informatics and Information Management Education (CAHIIM). She then became the assistant director of HIM with a Registered Health Information Administrator certification, also offered by CAHIIM.
CAHIIM recently accredited the UW-Green Bay Bachelor of Science in Health Information Management and Technology, assuring that the program meets the rigorous academic quality and competency stands established by the American Health Information Management Association (AHIMA). Completing the accredited program qualifies graduates to sit for the RHIA exam and earn the distinguished credential.
Both the RHIT and RHIA credentials played a critical role in Jane's ability to move up in the profession. In 2000, Jane became HIM director, overseeing three units:
Transcription and record quality
Medical files and identity
Release of information
She also works with other units called enterprise content management and health information exchange. All of these teams are the moving parts that make up HIM, and the goal is to make sure electronic health record (EHR) documentation is accurate, timely, and accessible.
Jane has no "normal" days at work. "That is what's so fun and exciting about the HIM field—it's not the same day after day. Even if you work in a small facility, as a health information manager, you will wear multiple hats."
Sharing her expertise with the UW HIMT program
Jane has been linked to the UW HIMT program since its inception. She was excited when she first heard about the 60-credit degree-completion program that teaches students both the HIM and health information technology skills needed to succeed in the new age of health information technology and data analytics. "There is a huge need for an online HIM program in Wisconsin," she says.
"That is what's so fun and exciting about the HIM field—it's not the same day after day."
Since Jane is a major part of the local HIM community and a member of Wisconsin Health Information Management Association, she was asked to be part of the selection committee for UW HIMT's first program manager, Frank Waterstraat. After he was hired, Frank created the UW HIMT advisory board, a group of recognized leaders in the health information field that would share developments in the industry and provide support and advice about program curriculum and development. Jane has been serving on the advisory board since it formed in early 2013.
The changing field of health information management
UW Health is an exciting place to work. "In the 36 years I've been here, the organization has worked to stay on the cutting edge," Jane says. "And top management has always valued this department. We were never put in the basement."
Now, UW Health's HIM department is a separate entity, and the bottom level of this office is in full transition. Cubicles are quickly taking over the open-air space, where paper medical records used to be. At the far end sit rows of emptied metal shelves with only a handful of records left. Soon, they will be sent to a storage facility—their final resting place.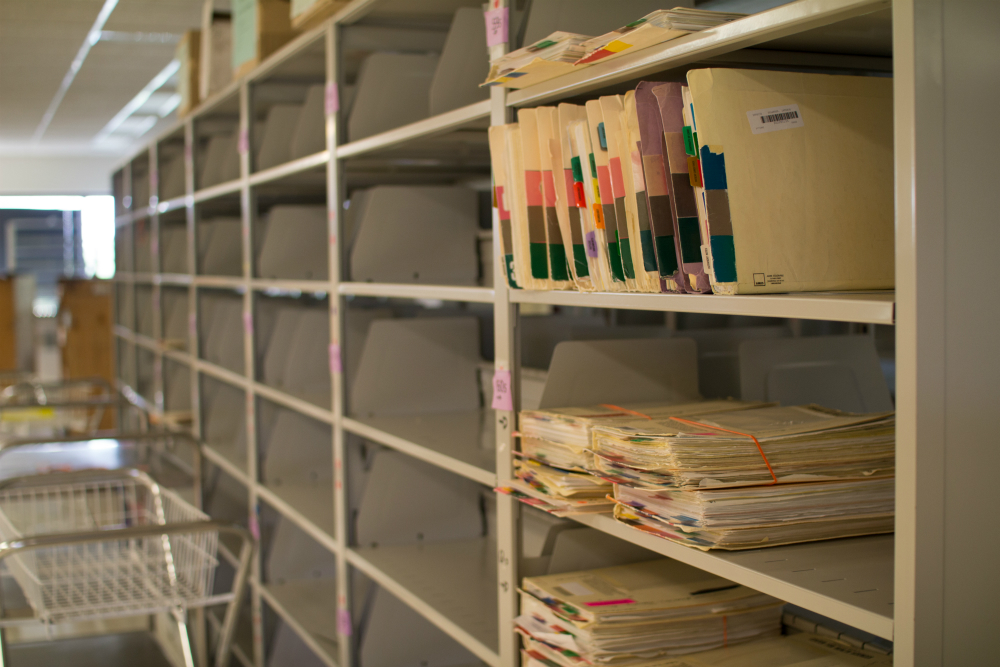 When UW Health began to implement EHRs, Jane says the hospital came out of the dark ages. "I can't imagine anything bigger than EHRs happening in the future," she says. "It really changed the department and the skill level required by our staff."
In addition to demanding data manipulation and analysis skills, the EHR system fosters a more virtual work environment for HIM staff members. Jane says the health information managers and leaders of tomorrow must be proficient in the following:
Managing remote staff, including transcriptionists, scanners, and indexers
Data governance, or the overall management of availability, usability, integrity, and security of health data
Problem-solving and the ability to work well with others on a team, including collaboration with information technology specialists and others within the organization
Privacy and security challenges for health information managers
One of the greatest challenges in HIM, Jane says, is privacy and security in a dynamic electronic environment, and this will continue. Although EHRs include audit trails, they're also much more susceptible to unnecessary access, and this can come from outside or inside the organization.
"I can't imagine anything bigger than EHRs happening in the future. It really changed the department and the skill level required by our staff."
"No one in our HIM department can say they don't know about privacy, confidentiality, HIPAA requirements, etc. Everyone receives training when they go through orientation and every year after."
In the early '90s, Jane began a privacy auditing program at UW Health to better address privacy and security challenges. Today, the program has expanded to include four employees whose sole function is to perform random privacy audits in the EHR. They focus on the following:
Snoops, or breaches in which someone intentionally looks at a record for which they don't need access
Blabs, or breaches in which someone discusses patient-specific information in an inappropriate setting
Mix-ups, or breaches in which there is an unintentional error, such as an after-clinic visit that is printed and given to the wrong patient accidentally
Through the audits and new privacy software, "we're always watching for these breaches. It's one of our top priorities," Jane says.
HIM's future role in patient care
To Jane, the work is very gratifying, and she encourages others to join the fast-growing field. HIM is a service department, and although staff members contribute greatly to patient care, much of what they do is invisible. "Sometimes my staff gets frustrated by the lack of recognition publically or within the organization. But I tell them, if we don't get attention, it means we're doing our job well. We are behind the scenes, and our work needs to be seamless."
Jane points to an award perched atop the cabinet in her office. It's the prestigious Grace Award given to her by AHIMA in 2012 for the department's creative approaches in HIM. "I got the managers together and said, 'We can win this.' I remember being onstage with my team at a national conference, accepting the award. That was my proudest moment—the recognition for everything we've accomplished."
As ICD-10 approaches—and nationwide interoperability continues to become a reality—HIM professionals will continue to gain respect. Jane says if she's learned anything over the years, it's that HIM is not about one person—it's the entire department pulling together. "I work with wonderful people. They are extremely dedicated and take pride in what they do."
Take the next step in your HIM career. Visit the UW HIMT website to find out more about this fast-growing field and why this program is great for busy adults. Or call 1-877-895-3276 or email learn@uwex.edu to talk with a friendly enrollment adviser today.
More stories from the UW Health Information Management and Technology blog:
13 Things You Need to Know Before Taking the RHIA Exam
Your Guide to Health Information Management and Health Information Technology Salaries