Here's your weekly roundup of the latest health information management and technology news!

If there is any industry ripe for disruption, it is healthcare.
This week, our team shares stories about change (or lack thereof) in the healthcare system, which sits on the brink of sweeping technological upgrades. Get ready, because it's time for the digital health revolution.
Happy reading!

In recruiting ads for physicians, hospitals usually promote state-of-the-art operating rooms or radiology equipment. Some hospitals also include "No E.M.R" in big, bold letters. It's a selling point, because of the widespread dissatisfaction with electronic medical record systems.
Health technology is supposed to prevent medical errors, but a professor of medicine recently wrote in the New York Times, "Health tech has seriously let us down."
Whopping errors and maddening changes in work flow have even led some physicians to argue that we should exhume our three-ring binders and return to a world of pen and paper.
Of course, going backward is impossible; health care is our most information-intensive industry, and it has amazing potential for digitization—think of the strides made by telemedicine and big data. Will physicians and other resisters get on board with EMR and other technologies? This writer says yes.
Some improvements will come with refinement of the software. Today's health care technology has that Version 1.0 feel, and it is sure to get better.
What's more important though is that health care reconfigures itself and the way it runs. Students and physicians need to be trained to focus on patients, not just computers; bugs need to be fixed; data has to be shared seamlessly between medical organizations; and hackers need to be stopped.
Our iPhones and their digital brethren have made computerization look easy, which makes our experience with health care technology doubly disappointing. An important step is admitting that there is a problem, toning down the hype, and welcoming thoughtful criticism…
Bonus: The writer ends with a bit about Watson, the supercomputer from last week's news roundup that famously beat Jeopardy's human champions.
In my research…I asked the lead engineer of Watson's health team, Eric Brown, what the equivalent of the "Jeopardy!" victory would be in medicine. I expected him to describe some kind of holographic physician, like the doctor on "Star Trek Voyager," with Watson serving as the cognitive engine. His answer, however, reflected his deep respect for the unique challenges of health care. "It'll be when we have a technology that physicians suddenly can't live without," he said.
Story and image from nytimes.com
UW HIMT Degree GuideGet Guide
Download a four-page overview of the UW Health Information Management and Technology bachelor's program, including information on courses, careers, and tuition.

Health care is undergoing a major transformation, but one thing hasn't changed in recent years: women are still woefully underrepresented in healthcare leadership.
Across the board in health care, women represent only 21 percent of executives and 21 percent of board members at Fortune 500 companies.
If you look at digital health startups—which investors expect to disrupt health care—that have raised $2 million in capital in the past four years, only six percent are led by women. Some investors say it's difficult to find women in health technology. But the other side of the story is some female entrepreneurs say they've experienced gender bias when pitching their ideas to investors.
…this lack of investment in female founders is the key problem — and not the lack of desire among women to start companies.
The issue of gender bias in the workplace is complicated—and usually results in a vicious debate. But consider this:
Of the 400 women surveyed for the report, 96 percent said that gender discrimination still exists, and almost 50 percent described their gender as a professional hurdle.
The lack of female leaders, this article says, is a systemic and cultural problem. Mentorship could help. What would happen if experienced women in health technology took 15 minutes to occasionally advise junior female entrepreneurs? That show of support could go a long way. Read more…
Story and image from ww2.kqed.org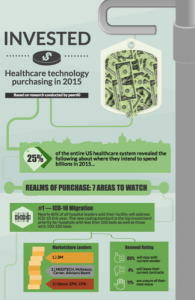 This new infographic by research firm peer60 reveals the top technology investments that medical organizations plan to make in 2015. Watch these seven areas:
ICD-10 migration
Population health management
Patient engagement
Revenue cycle management
EHR
Data analytics
Data security
Image from healthcareitnews.com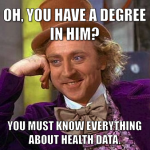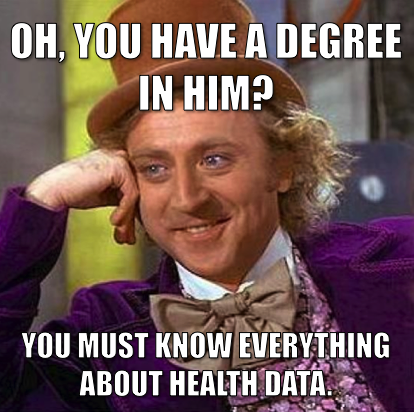 With so many career options in health care, it's difficult to narrow down the choices. However, given the increasing cost of higher education, today's graduates need to think about return on investment. Health information management—a profession dedicated to ensuring the integrity, privacy, and security of medical records—continues to be in high demand as patients gain access to healthcare services and as technology shapes the ways in which data is captured. The Registered Health Information Administrator (RHIA®) credential is one of many options for those seeking to enter this demanding area of health care.
What is the RHIA credential?
The RHIA credential—awarded by the American Health Information Management Association (AHIMA)—denotes one's competency in the management of protected health information, including its input, security, transmission, and storage. Read more…
Story from himt.wisconsin.edu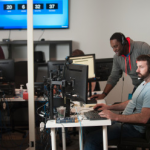 Austin is the place to be if you are starting a health information technology company. Many healthcare organizations across the country rely on outdated IT systems, so why this city? One business owner commented:
"Austin has a great entrepreneurship and investment scene, and the cost of living is cheap," he said. In Silicon Valley and San Francisco, entrepreneurs need to raise vast sums to afford the sky-high costs of renting commercial real estate and hiring talent.
On top of that, those in Texas's rural areas often have to travel long distances to see a doctor in person. One of the goals of these heath IT startups is to increase access, as well as affordability, for everyone through the use of technology.
They will do this by developing virtual heart rate monitors and other health-tracking devices, as well as telemedicine. The service, which is increasingly being covered by insurance, allows doctors to connect with patients through video and could also help them treat a greater number of people each day.
"Investors have realized that one of the surest and fastest ways to improve healthcare quality without ballooning costs is through all varieties of digital health and healthcare IT," said Jim Graham, a former health care venture capitalist… who now works as a consultant for Life Sciences startups.
"The [digital health] space has exploded in the last three years."
Story and image from ww2.kqed.org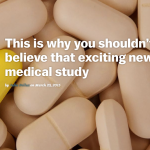 So there's this.
In 2003, researchers writing in the American Journal of Medicine discovered something that should change how you think about medical news. They looked at 101 studies published in top scientific journals between 1979 and 1983 that claimed a new therapy or medical technology was very promising. Only five, they found out, made it to market within a decade. Only one… was still extensively used at the time of their publication.
You know the story: Study promises medical miracle. Media hypes miracle story. Other researchers disprove miracle. This happens over and over, almost on a daily basis.
Not that it's all the media's fault–they inherently look for what's brand "new," but as one researcher put it, in science, the initial results are almost always proved to be wrong. The truth is individual studies are biased and flawed–only in a group of studies focused on the same question can you find a real answer. And that's okay, science is a team effort. It is all about consensus.
As a general rule, early research probably shouldn't be circulated, but since we are addicted to miracle breakthroughs, medical hype is not going to disappear:
We now live in an age of unprecedented scientific exploration. Through the internet, we have this world of knowledge at our fingertips. But more information means more bad information, and the need for skepticism has never been greater.
As we turn away from the magic pills and miracle treatments, I think we'll focus more on the things that actually matter to health — like education, equality, the environment.
Food for thought, data analysts. Food for thought. Read more…
Story and image from vox.com
Looking to start or advance your career in HIM or HIT? Find out why the UW Bachelor of Science in Health Information Management and Technology is a great program for working adults. Call 1-877-895-3276 or email learn@uwex.edu to talk with a friendly enrollment adviser today.

More from the Health Information Management and Technology Blog:
Health Information Management and Technology News Roundup — March 19
Move Beyond Traditional Roles To Embrace Big Data, Says Health Information Management Program Director
About our weekly news roundup
As a health information practitioner, it's important to keep up with the latest news in health information management and technology. That's why each week, we scour the Web to bring you the best stories on health technology, health data, electronic health records (EHRs), health information management, and everything in between. Share these articles with colleagues and employees, or simply stay on the cutting edge yourself!