Here's your weekly roundup of the latest health information management and technology news! This week, our team shares these stories:
A galactic battle of cyber attacks. This is equal parts terrifying and fascinating. The real-time map of global cyber war is "a great lens into just how real, persistent and large-scale the cyber threats have become." Health care is a major target in the fray–in just one year, three breaches totaled about 95.5 million records stolen. Meanwhile, chief security officers are charged with the impossible task of protecting all attack surfaces all the time.
To get your DNA tested, all you need to do is spit on your iPhone. Kidding, but it's not far off from the truth. Apple has teamed up with researchers to offer iPhone users the chance to send in "spit kits" to find out more about their genes. Universities, Google, and even the government have been trying to compile mega-databases of gene information. The question remains: Do individuals care about unlocking the secrets of their DNA? Apple will soon find out.
A Nova Scotia physicist pinpoints do-not-disturb areas of the brain. Everybody's brain is different. Up until now, brain surgeons dealt with this by having patients (who are awake during the procedure) count to make sure they were not cutting into the section that controls language, comprehension, and movement. Now, a computer algorithm, combined with an MRI scan, can map an individual's brain, showing surgeons the exact location of this critical section.
Chief information officers, what's on your mind these days? At the HIMSS15 conference in Chicago, the Super Bowl of health IT trade shows, CIOs of large healthcare systems were asked about the big issues and key topics in digital health. The most common top-of-mind issue is security. CIOs say it's important to learn from the security failures of others and understand what the "bad guys" are doing with stolen data.
Only 14 percent of patients get their own medical records electronically–30 percent say "they don't understand why they would need to do so." The debate about patient access to EMRs rages on. This story dives deep into the "messy process" of requesting your medical records. One estimate states that two-thirds of medical records contain errors, and studies find when patients engage with their medical data, it leads to better outcomes. So why are health providers pushing back on the issue? Probably because granting access would make it easier for patients to switch to a different physician or specialist.
UW HIMT Degree GuideGet Guide
Download a four-page overview of the UW Health Information Management and Technology bachelor's program, including information on courses, careers, and tuition.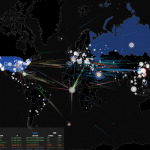 The screenshot above is courtesy of Norse ‒ a cyber intelligence company that uses their global sensor network to track cyber threats around the world ‒ in real time (online here).  Warning ‒ this global view can be a tad mesmerizing if you haven't seen it. There's no audio, but it's easy to imagine a John Williams soundtrack from some epic galactic battle. Attack origins and their targets (down to the IP address) are clearly listed by country ‒ and type of attack. In the course of about an hour on a nondescript Wednesday afternoon, China had originated over 4,000 global attacks and the U.S. was the target of over 10,000 such attacks from all over the world. That's just one hour on a random Wednesday. Read more…
Story and image from forbes.com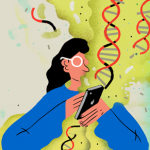 Of all the rumors ever to swirl around the world's most valuable company, this may be the first that could involve spitting in a plastic cup. Apple is collaborating with U.S. researchers to help launch apps that would offer some iPhone owners the chance to get their DNA tested, many of them for the first time, according to people familiar with the plans. The apps are based on ResearchKit, a software platform Apple introduced in March that helps hospitals or scientists run medical studies on iPhones by collecting data from the devices' sensors or through surveys. Read more…
Story and image from technologyreview.com
A Nova Scotia physicist has created a computer algorithm that, combined with a functional MRI, can pinpoint the do-not-disturb areas in the brain. "When we do a functional MRI, what we get is really a movie of the brain," Tynan Stevens explains. "What my algorithm does is figure out the best way to take that movie and condense it down to a single 3D image that we can bring to the surgeon. "We can show the doctor what part of the brain is controlling that person's hands, arms, language and speech … So it gives him a map of areas that he has to be really careful around during surgery." Read more…
Story and image from thechronicleherald.ca
Top CIOs at the Health Information Management Systems Society conference in Chicago discuss health IT issues including health data interoperability and security. This is Don Fluckinger of MSLGROUP onsite at McCormick Place in Chicago at HIMSS15 Annual Conference & Exhibition. This is the Super Bowl of health IT trade shows. We interviewed CIOs of large healthcare systems at the invitation only CHIME CIO Spring Forum, and spoke with some of our clients in the exhibition Hall about key topics including healthcare IT security. Read the whole transcript…
Video from YouTube
For Julia Hallisy, putting medical information into the hands of patients isn't just a professional crusade; it's a personal one. Hallisy learned the hard way that patients and their families, and not just doctors, can benefit from accessing personal medical documents, including scans, test results and written notes. That's because her daughter Kate fought cancer five times by the time she was ten-years-old. "After requesting Kate's records, I saw all sorts of things that concerned me, whether it was tired residents making mistakes, factual errors, or written notes that contradicted each other." Read more…
Story and image from kqed.org
Looking to start or advance your career in HIM or HIT? Find out why UW Bachelor of Science in Health Information Management and Technology is a great program for working adults. Call 1-877-895-3276 or email learn@uwex.edu to talk with a friendly enrollment adviser today.
MORE STORIES FROM THE HEALTH INFORMATION MANAGEMENT AND TECHNOLOGY BLOG:
Health Information Management and Technology News Roundup – Data Security, Watson Health, Telemedicine, and More
Your Guide to Health Information Management and Health Information Technology Salaries
RHIA Certification: What Is It? Should You Get One?
ABOUT OUR WEEKLY NEWS ROUNDUP
As a health information practitioner, it's important to keep up with the latest health information management and technology news. That's why each week, we scour the Web to bring you the best stories on health technology, health data, electronic health records, health information management, and everything in between. Share these articles with colleagues and employees, or simply stay on the cutting edge yourself!