Here's your weekly roundup of the latest health information management and technology news! This week, our team shares stories about:
Ownership of medical records.

 

About half of the United States has no laws concerning medical record ownership, and only one state grants record ownership to patients. Can you guess which one?
How healthcare big data analytics and The Internet of Things (IoT) are meant to be together. The IoT can be difficult to conceptualize, but Wired has a good description:
The Internet of Things revolves around increased machine-to-machine communication; it's built on cloud computing and networks of data-gathering sensors; it's mobile, virtual, and instantaneous connection; and they say it's going to make everything in our lives from streetlights to seaports "smart."
–Wired, "The Internet of Things Is Far Bigger Than Anyone Realizes"
People already interact daily with smartphones and other internet-connected devices. And since data from these devices can stream right into data collection systems, the IoT could be exactly what healthcare needs–but only if organizations decide to build the infrastructure to accept it.
Increasingly popular telehealth and mHealth (they're totally in with the IT crowd). Providers turn to telehealth and mobile health to save money and still retain patient loyalty through better outcomes and higher satisfaction.
A step forward for health information exchange. Just a week after being slammed in a federal report, Epic and other EHR vendors dropped policies that required healthcare providers to pay fees for sharing information with other providers that use different EHRs.
This comparative map outlines who owns a patient's medical records in each state. About half of the states do not have any laws on ownership of medical records because it is either presumed that the health care provider owns the record or the law is silent on the issue. In states that do have a law or regulation governing medical record ownership, medical records are usually considered the property of the health care provider (hospital or physicians). There are very few states that grant the patient ownership of his or her own medical record. Read more…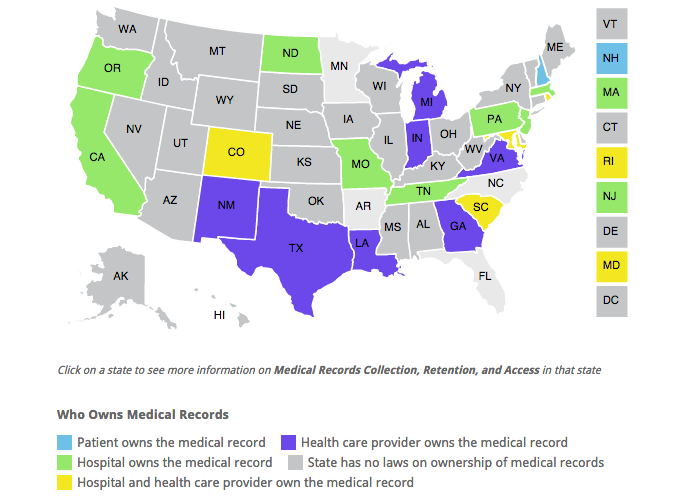 Story and image from healthinfolaw.org
UW HIMT Degree GuideGet Guide
Download a four-page overview of the UW Health Information Management and Technology bachelor's program, including information on courses, careers, and tuition.
There are many ways to define the concept of healthcare big data analytics. At its core, "big data analytics" is simply the joining of two or more previously disparate sources of information, structured in such a way that insights can be drawn from the comparison or examination of the new, expanded data set. However, the term has moved far beyond its dictionary parameters in the healthcare industry. For pioneering providers taking their first steps into leveraging information as a clinical and business asset, healthcare big data analytics is the marriage of EHR and HIE data, public health resources, patient engagement metrics, clinical outcomes, revenue cycle statistics, and patient-generated data produced by continuously monitoring medical devices, wearables, smartphones, and bedside monitors. Read more…
Story and image from healthitanalytics.com 
Telehealth and mHealth are key competencies for healthcare organizations attempting to meet the goals of the Triple Aim, HIMSS15 attendees are demonstrating this week. As patient engagement and satisfaction have a greater impact on emerging reimbursement structures and regulatory mandates, healthcare providers are turning to telehealth as a cost-effective way to expand access to care while providing quality services. The 26th Annual HIMSS Leadership Survey revealed that nearly half of the 330 organizations represented in the poll currently have a telehealth or mHealth strategy in place as a way to keep patients engaged. Forty-nine percent have telehealth services available, while 29 percent use remote coaching or education and 21 percent provide real-time remote patient monitoring for those with chronic diseases or complex needs. Read more…
Story and image from mhealthintelligence.com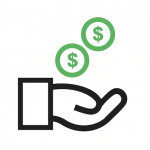 Epic Systems, the largest electronic health record (EHR) vendor, has dropped its fees to healthcare providers for exchanging information with other providers who use different EHRs, according to the publication Modern Healthcare. Commonwell Health Alliance members athenahealth and Cerner have said they also would not charge for information sharing by its EHR customers. The Epic announcement came just a week after the Office of the National Coordinator for Health Information Technology (ONC) issued a report about "health information blocking." The report slammed EHR vendors for limiting the exchange of health data. Among other things, it cited high charges for interfaces and high per-page charges for transferring data to competitors' EHRs. Read more…
Story from medscape.com
MORE STORIES FROM THE HEALTH INFORMATION MANAGEMENT AND TECHNOLOGY BLOG:
Health Information Management and Technology News Roundup – April 17
Move Beyond Traditional Roles To Embrace Big Data, Says Health Information Management Program Director
ABOUT OUR WEEKLY NEWS ROUNDUP
As a health information practitioner, it's important to keep up with the latest health information management and technology news. That's why each week, we scour the Web to bring you the best stories on health technology, health data, electronic health records, health information management, and everything in between. Share these articles with colleagues and employees, or simply stay on the cutting edge yourself!