Here's your weekly roundup of the latest health information management and technology news! This week, our team shares stories about:
The Obama administration's frustration with EHR vendors. Have you ever sent a kid to the store for bread, only to have him come back with a hot dog bun and a dozen Pez dispensers? Now imagine that $10 you gave him is $30 million and the kid is EHR vendors. While not exactly symmetrical, both scenarios are frustrating. In a recent report, the Obama administration said EHR vendors have made it difficult and costly to share patient information between systems.
Watson strikes again! The artificial-intelligence technology has been in the news a lot lately. This week, IBM announced that it would develop Watson Health, a cloud-based service that taps into medical data stores, crunches and analyzes the numbers, and spits out "personalized" results for hospitals, physicians, insurers, researchers, and maybe someday, individual patients.
Healthcare cyberattacks–will they continue? According to researchers at a leading cybersecurity company, 80 percent of calls they get about breaches are from healthcare organizations. But that will change as the health sector strengthens its security to protect valuable patient and employee data. Hackers will look elsewhere and most likely move to another low-security industry, such as higher education.
What do health information technology professionals think? In an HIMSS survey, 81 percent said IT is highly strategic and plays a major role in their organization's business plan. See the rest of the survey's results in this excellent infographic.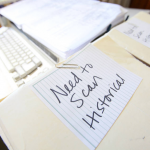 The Obama administration took vendors of electronic health records to task for making it costly and cumbersome to share patient information and frustrating a $30 billion push to use digital records to improve quality and cut costs. The report, by the Office of the National Coordinator for Health Information Technology, listed a litany of complaints it has received about vendors allegedly charging hefty fees to set up connections and share patient records; requiring customers to use proprietary platforms; and making it prohibitively expensive to switch systems. Read more…
Story and image from wsj.com
UW HIMT Degree GuideGet Guide
Download a four-page overview of the UW Health Information Management and Technology bachelor's program, including information on courses, careers, and tuition.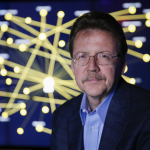 IBM is taking its Watson artificial-intelligence technology into health care in a big way with industry partners, a pair of acquisitions and an ambitious agenda. The initial three industry partners are Apple, Johnson & Johnson and Medtronic. On Monday afternoon, after the close of stock trading, IBM also announced it would buy two start-ups: Explorys, a spin-off from the Cleveland Clinic whose data on 50 million patients is used to spot patterns in diseases, treatments and outcomes; and Phytel, a Dallas maker of software to manage patient care and reduce readmission rates to hospitals. Read more…
Story and image from bits.blogs.nytimes.com
The health care sector has become the hot target for hackers in recent months, according to researchers at Symantec, a leading cybersecurity company that says it's also seeing big increases in "spear-phishing," "ransomware" and efforts to exploit newly discovered vulnerabilities in software used by a wide range of industries. After a wave of high-profile attacks on banks and retailers over the last two years, almost 80 percent of the calls to Symantec's global "incident response" service since December have come from health organizations, said Robert Shaker, a Symantec official who oversees the commercial service. Read more…
Story from nytimes.com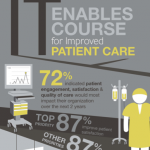 The 26th Annual HIMSS Leadership Survey reflects the experiences and opinions of information technology (IT) professionals in U.S. healthcare provider organizations regarding the use of IT in their organizations. This study covers a wide array of topics crucial to healthcare IT leadership including IT priorities, issues driving and challenging technology adoption, impact on patient engagement, and the level of support that IT has from the Executive team and Board of Directors. Because the questions in this year's study have been updated to explore the strategic role of IT, comparisons to data from previous years is not presented. See the infographic here…
Story and image from hitconsultant.net
Looking to start or advance your career in HIM or HIT? Find out why UW Bachelor of Science in Health Information Management and Technology is a great program for working adults. Call 1-877-895-3276 or email learn@uwex.edu to talk with a friendly enrollment adviser today.
MORE STORIES FROM THE HEALTH INFORMATION MANAGEMENT AND TECHNOLOGY BLOG:
Health Information Management and Technology News Roundup – April 9
Move Beyond Traditional Roles To Embrace Big Data, Says Health Information Management Program Director
ABOUT OUR WEEKLY NEWS ROUNDUP
As a health information practitioner, it's important to keep up with the latest health information management and technology news. That's why each week, we scour the Web to bring you the best stories on health technology, health data, electronic health records, health information management, and everything in between. Share these articles with colleagues and employees, or simply stay on the cutting edge yourself!