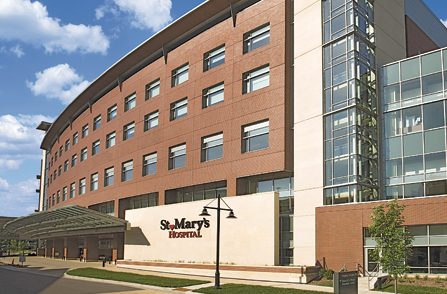 SSM - St. Mary's - Madison, Wisconsin
Description:
Patient electronic access to health information is an objective in the Meaningful Use Medicare and Medicaid EHR Incentive Program by Centers for Medicaid and Medicare Services (CMS). One measure for this objective is the "percent of all unique patients (or their authorized representatives) who are discharged from the inpatient or emergency department who view, download or transmit to a third party their information" (CMS, 2014). This project is part of a larger effort to increase patient use of MyChart at St. Mary's Hospital.
Improving the current process of medical record release via MyChart will make the application more useful to patients and will encourage patients to view, download, or transmit their health information. This project involves reviewing the current MyChart functionality and current MyChart medical record release practices, then through research on Epic UserWeb and conversations with Epic administrators I will develop recommendations for MyChart and Release processes and suggestions for St. Mary's website.
Main Objectives:
Review current

MyChart

functionality and practices

Review current release practices in MyChart

Research best practices on Epic

Userweb

Develop Recommendations for

MyChart

and Release processes, to include suggested updates to our web site
Major Tasks:
Meet with current MyChart administrator to review current stat

Meet with release of information vendor to review current practices

Research

MyChart

functionality on

UserWeb

Research 3 challenges discussed on the

Userweb

Review current communication process between HIM and patient

Develop 3 recommendations for Release practices

Suggest ways to improve the MyChart experience, specifically in regards to the Inpatient population

Research h

ow 2 other hospitals are using

MyC

hart

in regards to releasing records

Recommend best practices for communicating with the patient via MyChart about medical record requests
Deliverables:
3 Recommendations for improvement in regards to the process of using MyChart to release medical records

Draft Web site page for release of information

Summarize how

to improve the Inpatient MyChart Experience

Methods and modes of carrying out the tasks

:

The

method for this

res

earch project is to learn

about the topic through on-the-

job experience,

resources afforded to me through contacts and my site supervisor,

and

generally

seeking more information about the topic

.

This project will be completed mainly on-site, as well as some remote work. My site supervisor will oversee my work

.
Timeline: 10 weeks, see Gantt Chart for details.
Provisions for unexpected project changes:
If there are unexpected changes in the internship that limit or remove my site access, I will use whatever resources remain available to me to complete the research and develop the recommendations.
Reference:
Centers for Medicare and Medicaid Services (CMS). 2014. Patient Electronic Access Tipsheet. Retrieved from: https://www.cms.gov/Regulations-and-Guidance/Legislation/EHRIncentivePrograms/Downloads/PatientElecAccTipsheet_06182014-.pdf