Frequently Asked Questions Related to Health Information
This capstone experience was more valuable than I could have imagined. I was able to gain the real-life experience that I was lacking in the HIM world. This has helped me feel ready to begin my career in HIM. The project that I completed during this capstone experience was to create a pamphlet of frequently asked questions relating to health information. This was important to my capstone site as the HIM department receives many questions from patients that could easily be answered in a pamphlet/online format. They previously did not have a resource for patients to access.
The HIM department at Mercyhealth (Janesville) consists of approximately eighty employees, with only about eight employees working on site daily. The HIM director has embraced remote work for positions such as medical coders and CDI specialists. I also had the opportunity to sit down with other departments that are outside of HIM, but still directly relate to HIM. The transcription department was included as one of these departments. The transcription department was a great example of how far health information technology has come. The director of the transcription department had started transcribing on a typewriter, while they now utilize a voice to text recognition software where transcriptions need to simply edit and verify the text that comes in.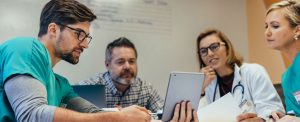 I began the project by shadowing some of the employees within the HIM department. I observed any patient interactions they had during the time I was with them and interviewed them about the types of questions they often receive from patients. I then began to research questions that HIM departments in other facilities had available. From the information I had gathered, I created a running list of questions from which I was able to choose the most appropriate questions for the facility. I then began to research the answers to these questions. Most of the information I could find through general research and within some of the facilities policies. Some questions I needed clarification on the answer from various HIM employees. After I had all of the questions answered, I began researching different formatting options for the final pamphlet. I was then able to compile everything together in the final professional format.