The future belongs to health information professionals who understand not only the management, coding, and transfer of electronic health data, but also how to build and use the software and systems needed to manage, retrieve, and analyze data to improve patient care.
Health information management (HIM) is a fast-growing field that combines the disciplines of medicine, management, finance, information technology, and law. Historically, the role of HIM professionals has been to collect, validate, code, maintain, and make accessible the health data that doctors, nurses, and other healthcare
providers rely on to deliver quality care.
But today, new technology and regulations are changing the health information field—and the traditional HIM roles—dramatically. The transition from paper to electronic health records (EHRs), combined with a new focus on electronic data management and analysis, will make some HIM roles obsolete while giving rise to entirely new jobs—particularly jobs focused on technology administration and data analytics—which are beginning to emerge today.
To get an idea of the kinds of jobs available, visit the American Health Information Management Association (AHIMA) Career Assist page, which lists open positions from around the country.
RHIA Certification
HIM graduates may want to consider earning the Registered Health Information Administrator (RHIA) credential, a certification that validates professional knowledge to potential employers and can give graduates a competitive advantage in the hiring process. To take the exam and become a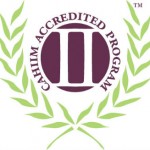 certified RHIA, individuals must complete a bachelor's program in HIM or HIT that's accredited by the Commission on Accreditation for Health Informatics and Information Management Education (CAHIIM). The UW Bachelor of Science in Health Information Management and Technology program is accredited by CAHIIM.
capstone Experience
Students in the HIMT program are required to take HIMT 490, a capstone course. Students find a healthcare-related internship site and set up a semester-long project in order to gain hands-on, real-world experience.  Upon graduation, students will be prepared for a wide variety of careers in the HIM and HIT fields. View our Capstone sites for a list of regional organizations who participate as HIMT Capstone hosts.
Employment Outlook
The employment outlook for health information management (HIM) and health information technology (HIT) professionals with the required knowledge and technical skills is extremely positive.
According to the U.S. Department of Labor's Bureau of Labor Statistics, health information technology is one of the 20 fastest-growing occupations in the country.
Employment opportunities for health information professionals with the required knowledge and technical skills is expected to increase by 23 percent between 2012 and 2022—far outpacing the average for all occupations in the United States.
In 2012, U.S. News & World Report ranked health informatics and information management as one of the top nine new majors in the country, stating that "the need is huge for professionals who can help acquire, manage, and use information to improve health and manage payments."
The American Medical Informatics Association projects a need for more than 50,000 health IT workers in the next five to seven years. (Healthcare IT News, April 2012)
A Bachelor of Science in Health Information Management and Technology can be the foundation for a variety of positions, including:
| Title | Average Salary |
| --- | --- |
| IS/IT director | $102,836 |
| Consultant | $95,688 |
| Compliance officer | $86,380 |
| HIM director | $84,588 |
| Privacy officer | $79,444 |
| Manager | $69,880 |
| Supervisor | $55,416 |
| Coding professional | $49,222 |
Source: AHIMA 2012 Salary Study.